About Auratti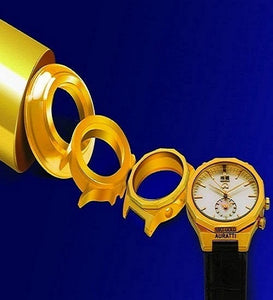 TIMELESS ART CRAFTED IN GOLD
Based on this philosophy Auratti, a maker of fine watches and jewellery, believes in making timeless luxury pieces in precious metal and stones, with an eye for detail in every aspects, right from designing to production. Auratti integrates various aspects of watch making and gold-smithing, combined with a passion to make art in Gold.
The mission here is to create luxurious gold watches which are masterpieces in themselves and which can be worn on different occasions, while also serving as classic heirlooms that can be proudly passed on from one generation to the next. These are practical wrist wears which tell precise time as well as make a statement.
Auratti is a primer precious metal and jewellery institution founded in 1977 and located in the heart and birth place of Indian watch, IT and CNC Industry. The team behind Auratti consists of engineers, gold smiths, jewelers and watch makers with a combined experience of over 40 years in these fields.
DESIGN AND DEVELOPMENT
Perfection begins with an idea, a design, a thought. We pay critical attention to the designing of the watch, the blue print for which is first drafted and finalized. Once the design is finalized, we move onto the development stage, where every piece that goes into the making of this watch is individually tested and checked to ensure the final product is nothing short of a work of art.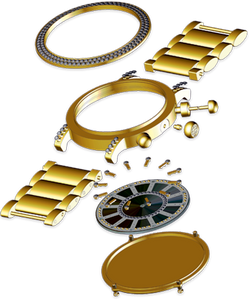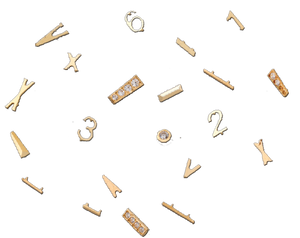 COMPONENTS & INDICES
Auratti believes that the more value you get for your money, the better. It is for this reason that every Auratti watch is adorned with 18kt Gold Crown, Bracelets, Indices & case pipes. A true example of a priceless art infused with beauty. The movements used in the watches are imported from Switzerland – the best quality that money can buy – and the straps for these watches are genuine leather in original colors.
Auratti hour indicators may be transfer printed by hand on the dial surface. hand-applied in 18k gold. are set on appliques,which creates a height to the indicators,slightly increasing contrast. All Auratti hour markers, whatever the dial's base material,and whether they are index batons. or Roman or Arabic numerals,are 18k gold. As with the dial plate, hour markers go through a length production process before they settle into their final home.
Next comes faceting. Using a machine fitted with sharply incisive diamond tools,the hour markers are either facetted (cut with small planed surfaces at the edges. Like a gem), flat diamond-polished, or chamfered to make them even more readable. Makers are then all given an individual final polish.
ASSEMBLING
Once the major and minor components of the watch are either sourced or built in-house, they are sent to our expert assemblers, who deftly puts them together to create the masterpiece.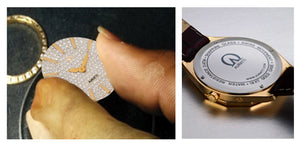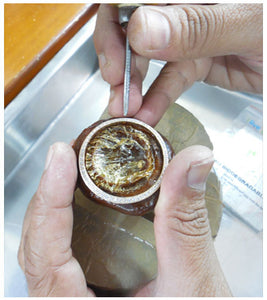 SERTISSAGE
Sertissage is swiss word for stone setting which is the art of securely setting or attaching gemstones into jewellery. Usually diamonds or other colored gem. Stones are used to decorate the dial or the bezal. This increases its beauty. Diamone setting is one of the most challenging and technically diffcult tasks in the jewelry making. setting of stones is often the final step in the entire process of making a piece of jewelry.